Let us start with the obvious question - WHAT IS data-driven recruitment?
Recruitment teams, staffing firms and talent search services providers are natural custodians of large volumes of data – data related to recruitment operations, candidates details, candidate sources, jobs data (salary range and locations) and the like. This information is stored on a variety of databases; from simple excel files to complex applicant tracking systems. Whatever be the location of the data within the organization, there is no doubt about the immense potential and value the data holds which can transform the efficiency and efficacy of recruitment operations.
Data-driven recruitment involves tapping into the large volumes of data lying within disparate systems, developing a 360° view of the candidate by combining the different data points, to enable analysis/interpretation of the data and to provide actionable recommendations to the talent acquisition teams.
According to LinkedIn, data-driven recruitment can help mature talent acquisition teams to improve their recruiting efforts by 2X and are also 3X more likely to bring in cost reductions and improve efficiencies. Overall, recruitment is undergoing a massive transformation enabled by new technologies; speed up processes by automating repetitive parts, facial and voice recognition technologies are being used frequently to asses candidate performance during interviews, chatbots are establishing the first level of contact with the candidates and many more such technologies. 3rd party platforms like LinkedIn and Glassdoor give recruiters (also HR teams) valuable data which can inform decision making. The hiring function has moved from a tactical level to a more strategic level involving major stakeholders within the organization. More than other things, a clearly defined data-driven recruitment funnel within an organization can go a long way to establish trust between the hiring managers and the leadership and to position recruitment as a function that can shape company growth.
The implications of a bad hire
Every talent acquisition team will strive to avoid a bad hire. A bad hire not only upsets the performance metrics of the team but also affects the confidence of the team members. The question to ask here is – is it possible to avoid a bad hire at all times despite efforts? The answer is unfortunately a resounding 'no'. A bad hire can take different forms – it can be a quick turnover within months of joining, jeopardizing the entire process and forcing the team to start all over again or it can also mean a substantial gulf between what the candidate promised on his resume and his actual performance after joining. Add to this the fact that there may be situations where candidates/skills are scarce or the team rushed through the process owing to pressure. A survey by job site Career Builder points out that 3 out of 4 employers have recruited a wrong person for a job role – that's 75%. What more, every bad hire costs approximately US$15,000 – multiply this with the number of bad hires and your budgets go for a toss. Correcting these anomalies would cost money and effort, without the guarantee of success though. On the other side companies will need to look out for top performing employees leaving the organization. The average cost of losing a good hire was upwards of US$29,000 in 2017.
In both the cases recruiters will have to weigh in the several factors at play – new job posting fees, conducting fresh interviews, loss of productivity, team dynamics, impact on customers and service delivery or even client escalations resulting in financial implications.
Enter data-driven recruiting
Closing a position takes time and often companies are unable to match the pace of their workforce demands. An ever increasing gap between number of jobs vis-a-vis available candidates and the intense competition to recruit the right talent, makes matters more complicated and difficult to surmount.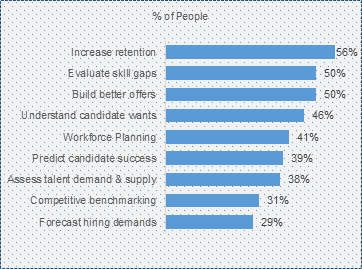 It is important to get a holistic view of all HR/talent data that is residing within the organization – not just the data generated between the sourcing and the on-boarding stages but also data pertaining to people who have joined the organization and continue to be on the rolls. Analysts feel that for any data-driven recruiting program to be successful, it should be tied to workforce planning efforts of the organization. There is a need to connect the disparate systems, not just to avoid data silos but also to bring all the available data on to a single pane to afford a better view of all the metrics. On an average 50% of recruiters/teams think that using data is extremely important and holds opportunities for the future. As per LinkedIn, 64% of respondents use recruitment data in some form or the other and 79% are 'likely' to use it in the next 2-3 years. Data can be used in recruitment to provide insights in to talent quality which can be further leveraged to improve processes. What are the likely questions to come up in the minds of planners and recruiters when contemplating data-driven recruitment?
1. How do I reduce the cost per hire
Recruiters may be aware of the average cost incurred to fill a particular position. One is the industry average and the other is the average cost of filling similar positions in the past. Every recruiter would want to align his/her personal goals with that of the organization. Attempting to reduce the cost of a hire is one of the key goals of data-driven recruitment when bench marked against available data. In this context the cost incurred on each source of hire can help an organization to ascertain which source works best for which skills/roles and also gives an estimate on the amount of money spent on each hire source – agency, portals, social sites, referrals, etc.
2. How can I speed up the pace of hiring
The time taken to fill a position may determine the success or failure of a recruitment program. To benefit from the application of data in the recruitment function, it is important to get clarity on the metrics that need to be tracked. A recruiting team may want to know which are the stages that are most time consuming or what are the usual bottlenecks for each hire sources employed. Are there any steps that is leading to duplication of effort? Can it be removed from the process? Once the factors are identified across the sourcing, screening, interviewing and offer stages, corrective action can be taken to remove, alter or modify the functions accordingly to get the desired results.
Optimizing the Pass-through-rate (PTR), a commonly used tool, can bring in improvements in the recruitment process. Pass-through-rate, measured as a %, indicates the number of applications that pass through the various stages of the recruitment process. In other words it shows what % of the applicants make it to the on-boarding stage. For e.g. if there are 100 applications which result in 16 hires, the overall PTR is 16%. However, it is also possible to break down the conversion rates for each stage of the hiring process to identify the areas and the reasons that lead to lower conversion. Based on the readings, corrective actions can be taken.
3. How can the hire quality be improved?
Employees drive productivity and performance of an organization, both in the short-term as well as in the long-term. In fact to draw the right lessons it is necessary to capture, track and analyse the data even after the on-boarding stage. One of the main drivers of data-led recruiting is to improve processes by evaluating past data and planning for the future. Teams can reflect on past data to ascertain employee turnover % (successful hires leaving within months), average time to productivity (number of days/months needed for a new hire to be at the top of his/her game), number of good hires (measured as the number of top performers within teams), the hire sources that have better conversion rates and other similar parameters. Data will be used to ensure higher quality of hires.
4. Candidate experience a key metric to analyse
Both negative and positive impressions about a company/team affects the brand. Recruiters are facing multiple challenges to find and on-board the right talent most of the time. Regardless of the hire sources, or the interactions a company has with potential candidates, communication plays an important role. So what defines a more successful recruiting effort than a not-so-successful one? It is the net effect of all communications between a recruiter and a candidate till he/she is rejected or on-boarded. Precise, regular, relevant and consistent communication improves overall candidate experience and strengthens the company's 'Talent Brand'. Sharing updates, with the candidates is one of the ways to ensure better experience even if it involves intimating negative news on candidature or suitability for a role.
The practice of using subjectivity and/or gut feeling in an increasingly competitive world of recruitment has become counter-productive. To inculcate a 'data culture' within recruitment teams requires the right mindset and a top-down end-to-end approach. The attitude should be to make a difference using data leveraging latest tools and technologies. The following are some of the steps involved in setting up a data-driven recruiting program:
1. Pull the data together
Recruitment/HR teams are sitting on a lot of data but the chances are that in majority of the organizations it is scattered and is stored in different places. As a first step, it is important to do away with data silos and to bring the data together in one place. This will enable users to access the data from a centralized location.
2. Choose the metrics to track
Data, by itself will not lead to improvements – it is a means to an end. There are many data points that can be derived from the database, but it is important to have a clear view of what metrics and data points need to be tracked, measured and analyzed.
3. Translate data in to business benefits
Once the data points are finalized the next step is to articulate in tangible and measurable terms the benefits that are expected to accrue from the exercise. In other words, all the stakeholders should be aware of the business benefits and the expected RoI of any effort of this kind.
4. The analytics platform
Cloud-based recruitment/talent analytics platforms provide the necessary tools to derive actionable insights from the data. Data visualization is a core functionality of any such tool which can be customized depending upon whether the buyer is a small/medium business or a large enterprise. Other key functionalities of talent analytics platforms are – external benchmarking, easy-to-use interface, and predictive analytics.
Recruiting teams are now looking at hiring resources who are also good at processing and analyzing large volumes of data. While the quality of data available with recruiting teams can always be improved, talent intelligence needs a strategy too. It has been established beyond doubt that to be a winner, companies need to hire and retain the best talent available – more people, with specialized skills and more quickly than before. Data-driven recruitment is one of the promising tools that can prevent companies from falling behind the competitive curve.