Artificial Intelligence in recruitment – A Case for automating tasks
AI, within the scope of recruitment/HR functions is witnessing expansion to help streamline and/or automate high volume or repetitive tasks. It is also helping to minimize manual screening of resumes. This is just one application of the technology in recruitment. The major challenge for recruiters is screening of candidates from a large pool of talent. Manual screening is one of the most time-consuming functions; on an average, recruiters spend 13 hours per week to just to source candidates for one role, and expectedly, there are so many resumes that they will likely miss out during the process. AI can assist in automating work-flows without business disruptions.
COVID-19 has affected almost all the industries across the world. Recruitment companies are among the hardest hit due to the lockdown and social distancing protocols. To circumvent this problem, many are developing and beta-testing alternative methods to get in touch with candidates and conduct interviews. BigTech companies such as Microsoft, Google, Facebook, and Intel are no longer doing face-to-face interviews and are moving towards virtual interviews. Similarly, larger recruiting firms such as PageGroup and Robert Walters are setting up processes and protocols to enable similar methods.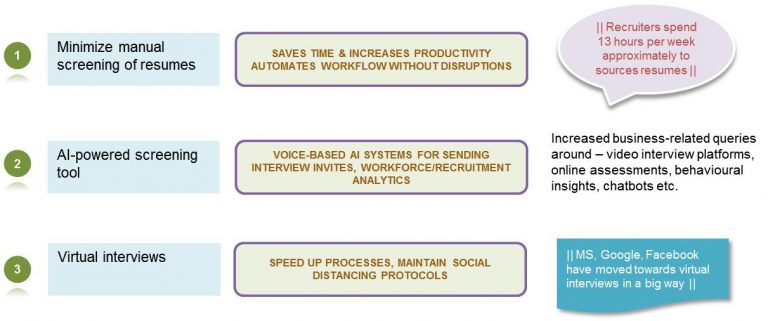 Some companies are using AI-based recruitment and candidate screening tools on a trial basis that will help recruiters to identify potential candidates and to save time. While this frees up capacity to perform other necessary tasks, this is also expected to trip down cost for the company and improve candidate satisfaction levels.  During the last few weeks, AI companies that are offering recruitment solutions have witnessed an increase in their business-related queries. Sydney based Curious Thing that uses voice-based AI to invite the candidates for interview and also provides analytics services for people intelligence is one such company that has seen a surge in their customer base. Bay-area based Talview that offers AI-Powered recruitment platform with video interviews, online assessments, behavioral insights, chatbots & automated proctoring software have also seen an increase in the inquires about the technology since February. On the other hand, existing customers have increased their usage of the tools by 30% to 40% and are moving towards AI-driven hiring like never before. Companies are also using AI as a mode for faster and impartial recruitment process. For e.g. IBM Watson, IBM's AI tool, helps remove potential bias from recruitment. It helps analyze historical recruitment data and identifies the instances where there have been bias in recruitment based on the various parameters such as candidate's age, gender, race, and education.
The impact of COVID-19 virus on recruitment and talent acquisition teams has given rise to a sudden demand for virtual hiring, collaborative office solutions and remote working tools. The crisis is, in effect quickening the adoption of such tools by 2 to 3 years.
AI use-cases across recruitment functions
In the current scenario where COVID-19 is spreading across the world, and many governments have announced the lockdown in various cities, recruiters are working remotely and struggling to source the right candidates and arrange interviews. The use of AI will improve the efficiency levels of recruiters during stressful times. However, it is unlikely that in the near future, AI will be replacing recruiters.
Below are several ways recruiters can utilize Artificial Intelligence to hire candidates:
AI is being used for screening resumes by setting up criteria based on job requirements. Sorting of the resumes can be done providing a set of keywords where it can match the resumes on various job boards and shortlist the candidates.
Toronto based Ideal, an AI company helps screen candidates in the job boards or the company databases and also grades every suitable candidate in real-time. The platform uses a predictive algorithm to determine the best fit candidate for that particular role. Arizona based Paradox offers its flagship product Olivia AI tool that is useful for the recruiters and talent acquisition teams to search & screen candidates, improve conversions, and answer all queries raised by the candidates.
Recruiters and talent acquisition teams typically perform multiple interview rounds to evaluate the candidates and find the fitment. This is a time-consuming task. The global crisis sparked by the outbreak of COVID-19 has made it difficult for recruiters and candidates to fix and attend face-to-face interviews. One way to overcome this issue is to conduct AI-powered video interviews and share the results with panel members to view and provide their feedback. Companies in the USA and Canada are opting for such services from AI firm Topdevz. California based Topdevz has developed a video interview platform that scales up the interview process by the recruiters. The AI tool interviews the candidate through its video platform that can be shared with the interview panel, and it can be transcribed into the database where the interview panel can search for the candidate's verbal answers for keywords.
3. Behavioral assessments
Since the past decade, companies are focusing on the softskills of the candidates, apart from hard technical skills. Companies are looking for candidates who are good at not only hard skills but also have critical personality traits. Managers are looking out for candidates with a range of soft-skills such as communication, teamwork, and public speaking.
However, in the current situation, it would not be possible for the recruiters or the hiring manager to look deep into the behavioral skills of the candidates as they might not be able to attend a face to face interviews. AI-driven behavioral and personality assessments of candidates without requiring the candidate's attention or time is a key breakthrough in this domain.
Companies are using AI-driven Chatbots for the interview process. Chatbots  cover all the aspects of recruitment right from resume matching, job request to candidate engagement, and other essential elements in the recruitment cycle. Chatbots are also useful to address any questions about the position and also match the candidate resume with other job openings in the company. Chatbots can accomplish multiple interviews at the same time and inform the candidates about their selection or the next steps in the process.
Many start-ups are already offering AI-powered Chatbots that will assist the recruiters and talent acquisition teams.
The majority of the recruiters are working remotely – one of the significant challenges they are facing is the difficulty in engagement with the candidates. Using the AI-Driven tools, recruiters can engage with the candidates even while there are working remotely. AI-driven tools can assist in sending text messages,  chat using bots, or sending SMS. Using AI, recruiters can send bulk messages or create personalized messages to have a better two-way interaction with the candidates.
The extraordinarily difficult situation has impacted all the businesses in the world. Under the current circumstances, it is difficult to predict when the market will be back to normal. Hiring is slowing down in various industries, and recruiters are facing difficulties to arrange interviews with the candidates and close the positions.
There is a possibility of a quiet revolution where there is an increase in demand for AI-driven tools to make the job of recruitment easier. Some of the industries which are likely to seek these services are healthcare, logistics, retail, and supply chain. AI-driven HR tech companies are uniquely positioned to serve the recruitment firms, talent acquisition teams, and HR management. On the other hand, recruiting firms need to rethink their strategy and contemplate how they can fill the positions using the AI-driven technology by working remotely.